Just follow the directions below for some uncomplicated and unintimidating meal ideas. Top it all off with some wine (a chardonnay would taste delightful with the pork), and you're set. Bon appetit!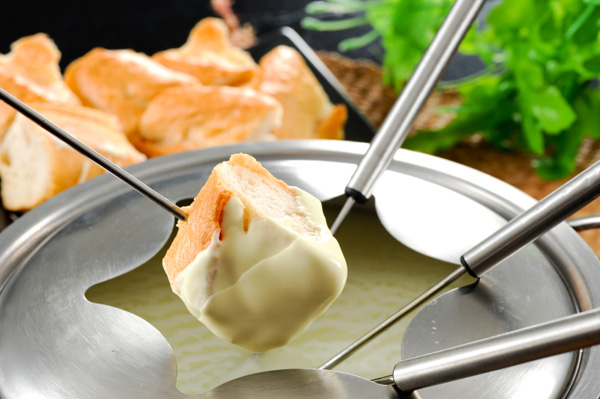 French onion soup fondue
Ingredients:
2 tablespoons oil
2 large onions, diced
1/2 pound Swiss cheese, grated
1/2 pound Gruyere cheese, grated
2 tablespoons flour
3/4 cup beef broth
1/4 cup cooking sherry
1/2 tablespoon concentrated beef broth
Pinch of nutmeg
Directions:
Pour the oil into a medium-size saute pan set to medium heat. Saute the onions, tossing frequently, until brown and caramelized, about 15-20 minutes. Set aside.
Toss the cheeses with the flour in a medium-size mixing bowl until evenly coated; set aside.
Combine the beef broth, cooking sherry and concentrated beef broth in a medium sauce pot over medium-low heat. Bring to a slight simmer. Whisk the cheese into the mixture in four batches, waiting between each addition for the cheese to melt. Don't let the mixture come to a boil. When the final batch has melted completely, remove the pot from the heat and stir in the caramelized onions.
Transfer the mixture to a fondue pot and sprinkle the nutmeg on top. Serve with French bread or blanched asparagus spears, potatoes, broccoli or cauliflower.
One-pot rosemary pork chops & potatoes
Ingredients:
4 boneless pork loin chops, cut 1-inch thick
12 small red bliss potatoes, washed and quartered into wedges
4 tablespoons vegetable oil, divided
2 tablespoons fresh rosemary, chopped
1 teaspoon dried oregano
1 teaspoon dried basil
1-1/2 teaspoons kosher salt, divided
3/4 teaspoon ground black pepper, divided
Zest of half an orange
1 tablespoon garlic, chopped
Directions:
Preheat the oven to 375 degrees F.
To prepare the rub, combine 1 tablespoon oil, rosemary, oregano, basil, 1 teaspoon salt, 1/2 teaspoon black pepper and zest in a small bowl; mix well. Set aside.
To prepare the potatoes, combine the potatoes, 1 tablespoon oil, garlic, 1/2 teaspoon salt, 1/4 teaspoon black pepper and 1 teaspoon of the rosemary rub in a large bowl. Toss until well coated; set aside.
To prepare the pork chops, evenly coat each chop with the remaining rosemary rub. Heat 2 tablespoons of oil in a 12-inch skillet on medium-high heat. When the oil begins to ripple, add the pork chops and sear until golden brown, about 2-3 minutes on each side. Remove the chops to a plate.
Add the potatoes to the skillet and reduce the heat to medium. Saute the potatoes, tossing frequently, until they begin to brown about 5-8 minutes.
Place the pork chops on top of the potatoes and bake until the chops reach an internal temperature of 145 degrees F, about 25-30 minutes. Remove the pork chops to a plate, cover with foil, and allow them to rest for 5 minutes.
While the pork chops are resting, continue to bake the potatoes in the oven. Serve with the potatoes and pan juices.
Cherries jubilee
Ingredients:
1 (15 ounce) can whole sweet cherries in light syrup, drained, juice reserved
1 tablespoon sugar
1 tablespoon cornstarch
1/4 cup orange juice
1/3 cup kirsch (or a similar liquor like brandy or cognac)
1/2 teaspoon orange zest, finely grated
1 pint vanilla ice cream
Directions:
Whisk the sugar and cornstarch together in a small bowl and then add 2 tablespoons of the reserved cherry juice. Set aside.
Combine the remaining cherry juice, orange juice and orange zest over moderate heat in a 10-inch (or larger) skillet. Add the cornstarch mixture. When the juice thickens, add the cherries to the skillet and warm them through, tossing gently to prevent breaking.
Pour in the liquor and flambe the mixture until the flame dissipates on its own. Then, remove the pan from the heat and set it aside. (Watch David's How to Flambe video on YouTube for more on this step.)
As program host of QVC®'s popular cooking and dining show In the Kitchen with David®, David Venable offers a diverse and unique viewership experience with features such as product information, cooking demonstrations, on-air guests, celebrity appearances and live viewer interaction. Tune in to In the Kitchen with David on QVC Wednesdays at 9 p.m. EST and Sundays at 12 p.m. EST and visit QVC.com/ITKWD for Venable's recipes and blog posts. Plus, follow him on Twitter @DavidVenableQVC and Facebook at David Venable QVC.
More recipes from David
Soup's on: Winter warm-ups with David Venable, QVC's resident foodie
Let's talk turkey: Cooking tips from QVC's resident foodie David Venable
'Tis the season to bake… cookies!
More From SheKnows Explorer