Need some stress relief during your long workday? Do you often feel tension in your neck, shoulders and hips while hovering over your office computer? Join me as I take you through a few simple yoga poses to ease some of your aches this very moment. My local Aids/Lifecycle office recently partook and they're all smiles about it!
To begin, sit squarely while pressing all four corners of your feet firmly into the floor. If your fancy shoes allow, draw your toes up toward your heart. If your feet do not reach the floor, place something solid underneath them.
Open your heart by rolling the tops of your shoulder bones back and slightly down away from your ears. Draw the tips of your shoulder blades flat onto your back. Keep that and tuck your bottom rib in while pulling your navel toward your spine.
Seated half-crescent moon pose
Equally press both hips firmly into your seat as you extend your arms vertically toward the sky. Place palm to palm and inhale as you lengthen from your hips all the way through your fingertips. Exhale as you shift your palms to the right while bending into a crescent shape keeping both sides of your body lengthened. Take three to five breaths on each side.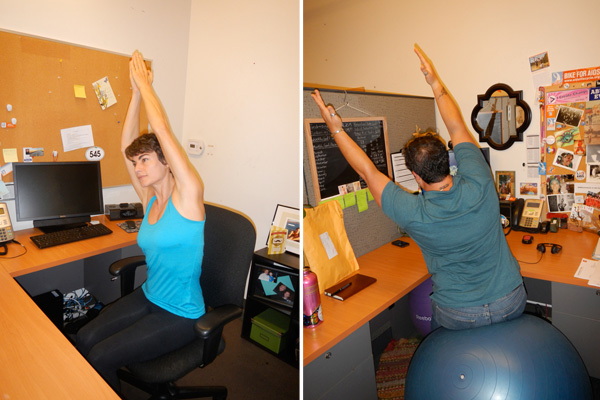 Seated cow face pose
Raise your right arm and bend the elbow to place your right hand at the nape of your neck. Bring your left arm behind you to meet your right hand for a clasp. If you cannot clasp, reach your hands toward each other while keeping both shoulders back. Take three to five breaths on each side.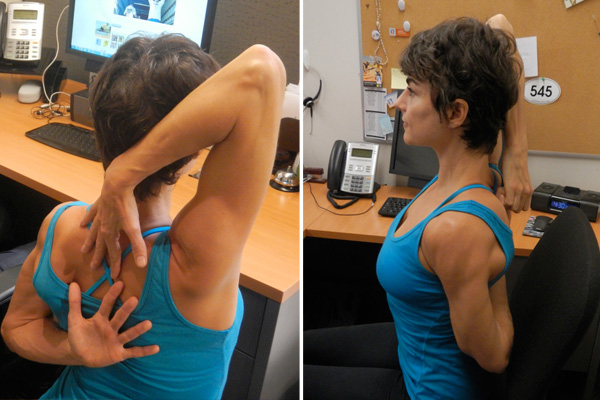 Seated hip opener
Cross your right ankle over your left knee. Keep your foot flexed and toes pulling back toward your crossed knee. Extend your arms toward the ceiling on an inhale. Exhale into a slow, forward bend. Take three to five breaths on each side.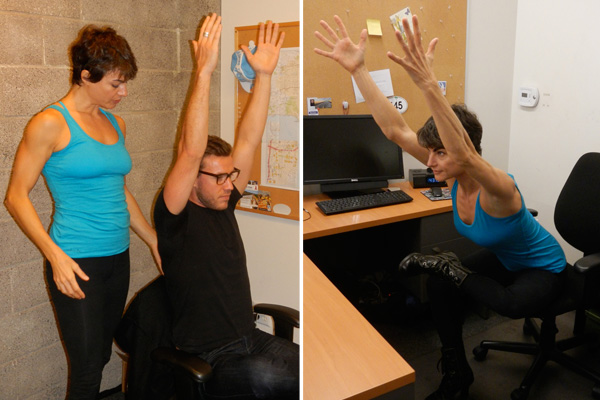 Seated twist
Lengthen your spine on an inhale. As you exhale, place your right hand on your outer left thigh and press your left hand into the chair at the base of your spine. Gaze softly over your left shoulder. Take three to five breaths on each side.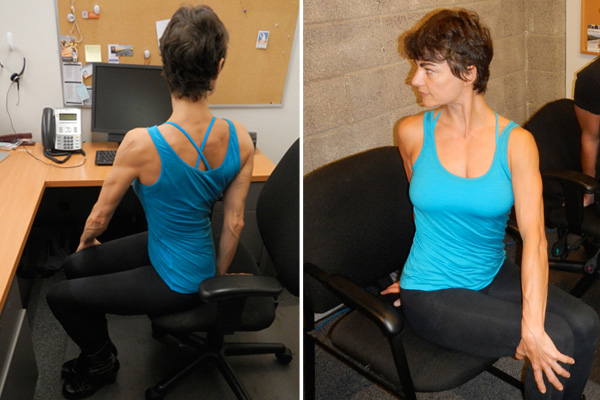 Forward bend
Plant your feet firmly into the ground and engage your leg muscles by isometrically squeezing your legs to the midline. Exhale as you slowly bend forward from your hips and place your hands flat onto your desk. Enjoy!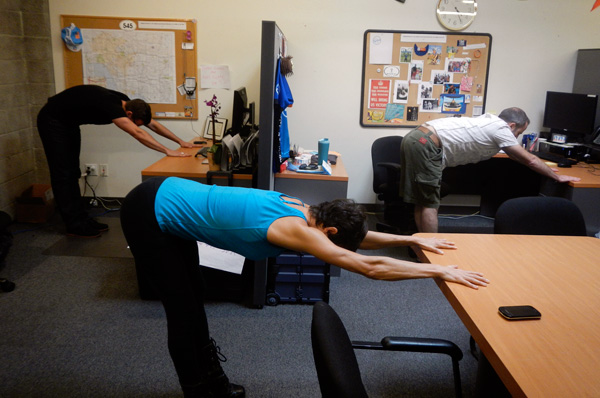 Namaste.
More on yoga
How yoga helped me kick my sugar habit
How yoga got me to finally quit smoking
Naked yoga: Would you give it a try?
Photo credit: WENN (top), Kristin Flickinger (all others)
More From SheKnows Explorer