Just when I thought I had my addictions licked, I found myself licking the bottom of a gallon-sized container of ice cream. I was in a vicious cycle, vacillating between starving myself and cracking under my own rigid restrictions that resulted in a face-plant in a vat of sugary foods. This addiction took me by surprise. I wondered how such a thing could happen to me. I was a yoga teacher, for goodness sake! I had quit smoking for quite some time and already lived many years of a good, sober life. I beat myself up over it – thinking I should know better. Hopeless and out of control with cravings, sugar brought me to my knees. I was heartbroken.
In Anusara yoga, the principle of "root to rise" is used to lift the body physically by grounding down through the foundation. It occurred to me that I could apply this practice to my mental and spiritual states as well. Although I was ashamed of my downfall, I knew that sugar had stopped working for me. There was nowhere else to go but up. Recognizing that I had a sure bottom from which to push off was the beginning of my relief.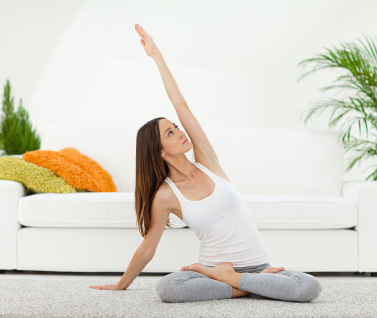 Along with a myriad of support groups and outside help, I had to recommit to my personal yoga practice. Part of my hitting bottom, again, was the fact that I had become complacent. Since my home practice was lacking inspiration, and my little broken heart needed a conscious, loving community while I detoxed, I immersed myself in "40- yoga-classes-in-40-days" at a local studio.
There, I found a deeper, spiritual experience with yoga and my path to a sugar-free life. Instead of my usual vigorous practice, I found myself drawn to the basics – taking on each asana more slowly and deliberately. I dedicated individual sun salutations to specific body parts that needed extra love and acceptance. My meals were book-ended with pranayama (yogic breath work) allowing me to be more present and calm as I nourished my body.
I was humbled each time I set my intentions at the beginning of my practice, offering my breath to my body in hopes of becoming well again. Yoga didn't cure my addiction, but it took the sharp and painful edge off of a most vulnerable time in my life. Honestly, it's never let me down.
More on yoga
Naked yoga: Would you give it a try?
Yoga for beginners
5 Yoga essentials for National Yoga Month
Photo credit: FayesVision/WENN.com
More From SheKnows Explorer