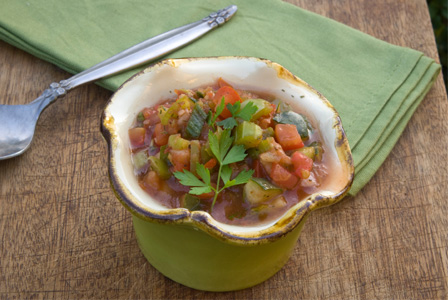 So many delicious fruits and veggies hit their peaks in the summer months. But before you know it, summer turns to fall, and fall to winter, and right around January, you find yourself dreaming of a juicy strawberry or crisp cucumber.
Tips and recipes from QVC's resident foodie
Before summer becomes a fleeting memory and that precious produce goes out of season, here are a few ways you can enjoy the flavors of summer all year long.
Freeze it
Most produce freezes surprisingly well, so whatever you can't use now -- freeze. The FoodSaver Vacuum Sealer keeps all kinds of foods -- especially fruits and veggies -- fresh for a year or more in the freezer, unlike standard containers or zip-top bags which last months.
Cook it
Set aside some time to turn all that produce into soups, casseroles, sides, entrees and desserts that you can freeze now and serve later. I've included several recipes below that may help. Avoid freezing recipes with sour cream, half-and-half and yogurt. Skip crunchy toppings like crackers because they'll get soggy. Freezer-safe bakers should be sealed with plastic wrap AND foil and containers must have air-tight lids to prevent freezer burn.
Can it
Don't worry -- things are a little easier than when your grandmother did this. You can now buy kits with labels, reusable jars and detailed instruction guides. You can preserve all the vitamins and nutrients by canning (and freezing) whole fruits and vegetables. And, if sealed properly, your produce will last indefinitely -- no refrigeration required.
Jam it
Save some of those blueberries, blackberries and strawberries for homemade jam and preserves. There's no cooking involved with the Ball No Cook Fruit Jam Kit. Here's what you get: the jars, pectin, dissolvable labels and everything you need to make scrumptious freezer jam in less than 30 minutes.
Summer Garden Vegetable Soup
"This recipe is open to interpretation. Don't be afraid to improvise with the ingredients depending on your preferences or what you have on hand. Frozen veggies can supplement; fresh tomatoes (four cups, peeled and seeded) can be used in place of the canned crushed tomatoes, and you can also add two cups of cooked pasta (like macaroni) or a bit of cooked rice right before serving." -- David
Ingredients:
1 tablespoon olive oil
1/2 cup carrots, chopped
1/2 cup celery, chopped
1/2 cup onion, chopped
3 - 4 cloves garlic, minced
6 cups vegetable broth
3 cups in total of your favorite in-season vegetables such as green beans, zucchini, yellow squash, red bell peppers, beans, potatoes and/or corn, chopped
4 cups peeled, seeded and chopped tomatoes or 2 (15 ounce) cans crushed tomatoes
2 tablespoons fresh herbs of your choice such as basil, oregano and/or parsley, chopped
Salt and pepper, to taste
Freshly grated Parmesan cheese (to garnish)
Directions:
In a 5-quart pressure cooker, add the oil and heat on high, or brown, with the lid off. Sauté the onions, celery, carrots and garlic for about five minutes.
Add the remaining ingredients, except for the fresh herbs, and stir. Securely lock on the pressure cooker's lid, set the cooker to high, and cook for five to seven minutes.
Perform a quick release to release the cooker's pressure. Safely remove lid and check for doneness. Serve topped with fresh herbs and freshly grated Parmesan cheese.
Classic Lasagna with Mozzarella-Stuffed Garlic Rolls
"If you're preparing the lasagna ahead of time, follow the instructions up to the point of baking, and then tightly seal it for the freezer, where it can last about six months. The day before you bake it, allow the lasagna to thaw in the refrigerator. If there's no time for thawing, just pop the lasagna in the oven frozen and add an extra hour to the baking time." -- David
Ingredients:
Lasagna:
2 tablespoons olive oil
1/2 pound Italian sausage, casings removed
1/2 pound ground beef
2 (24 ounce) jars marinara
1 (32 ounce) container ricotta cheese
2 eggs
1/2 cup Parmesan cheese, grated
1 teaspoon salt
1/4 teaspoon ground black pepper
1 teaspoon dried basil
1 teaspoon dried oregano
3 cups mozzarella cheese, shredded
1 package (12 sheets) no-boil lasagna noodles
Mozzarella-Stuffed Garlic Rolls:
1 store-bought pizza dough, cut into 20 (1-inch) pieces
6 mozzarella cheese sticks, cut into 20 (1/2-inch) pieces
1 stick unsalted butter
8 cloves garlic, minced
1 teaspoon salt
3 teaspoons dried oregano
Parmesan cheese, grated (to sprinkle on top)
Directions:
Preheat the oven to 375 degrees F. To prepare the lasagna, start by making the meat sauce. Combine the sausage and ground beef in a large skillet and sauté over medium-high heat until brown. Add one jar of the marinara to the skillet and bring to a simmer. Remove from heat.
Next, prepare the cheese mixture and combine the ricotta cheese, eggs, Parmesan cheese, salt, pepper, basil and oregano in a medium-sized mixing bowl. Spread half of the remaining jar of marinara on the bottom of a 13 x 9-inch pan. Lay four of the lasagna noodles over the marinara and spread half of the cheese mixture over the noodles.
Next, spread half of the meat sauce over the cheese mixture and sprinkle one cup of the mozzarella cheese over the meat sauce. Repeat the layers one more time. Lay the four remaining lasagna noodles over the final layer and spread the rest of the marinara over the noodles. Top with the remaining one cup of cheese. Cover the dish with foil and bake for one hour. Then, remove the foil and bake for another 15 minutes. Remove the lasagna from the oven.
While the lasagna stands (for at least 15 minutes), prepare the garlic rolls. Increase the oven temperature to 400 degrees F and lightly spray a cookie sheet with cooking spray. In a small saucepan over medium-heat, melt the butter with the garlic and oregano. On a lightly floured surface, press the 1-inch dough pieces out into a thin circle; it should be three inches wide. Place a piece of mozzarella cheese in the center (or one tablespoon if using shredded) and fold up the dough around the cheese. Press the edges together until completely sealed. Place the rolls seam-side down on the lid or cookie sheet; they should just barely touch. Then, cover the rolls with half of the garlic and melted butter mixture. Reserve the rest. Bake for approximately 20 minutes, or until puffed and golden brown. Brush the remaining butter mixture over the top of the rolls immediately after removing them from the oven. Sprinkle with Parmesan cheese. Serve hot.
Triple Berry Lattice Crisp
Ingredients:
2 cups fresh or frozen blueberries
2 cups fresh or frozen raspberries
2 cups fresh or frozen blackberries
1/2 cup sugar
3 tablespoons flour
1-1/2 cups granola, coarsely ground
1/3 cup brown sugar
6 tablespoons butter, melted
1/2 teaspoon ground cinnamon
1 prepackaged pie crust, cut into 1-inch strips
1 egg, beaten
Cooking spray
Directions:
In a large bowl, mix together the berries, sugar and flour. Set aside. In another bowl, mix together the granola, brown sugar, butter and cinnamon.
Spray a 2-1/2-quart baking dish with cooking spray. Press 3/4 of the granola mixture into the bottom of the dish.
Top with the macerated berries. Sprinkle the remaining granola over the berries, and arrange strips of pie dough in a lattice pattern over the top. Fold the edges of the dough slightly under the lip of the baking dish, pinch closed, and brush with the beaten egg. Bake at 375 degrees F for 30 to 35 minutes.
Allow to sit for 10 minutes before serving. Serve with whipped cream or ice cream.
As program host of QVC®'s popular cooking and dining show In the Kitchen with David®, David Venable offers a diverse and unique viewership experience with features such as product information, cooking demonstrations, on-air guests, celebrity appearances and live viewer interaction. Tune in to In the Kitchen with David on QVC Wednesdays at 9 p.m. (EST) and Sundays at 12 p.m. (EST) and visit www.QVC.com/ITKWD for Venable's recipes and blog posts. Plus, follow him on Twitter @DavidVenableQVC and Facebook.
More summer food
Unique recipes for your grill
Summer garden tips and recipes
Become a grill master: Here's how
More From SheKnows Explorer