Tried And Tested!
A juice cleansing virgin attempts to try a brand new one day juice detox from Cooler Cleanse, a company co-owned by Salma Hayek. Is it worth it to go all liquid for one day? Check out our daily diary below!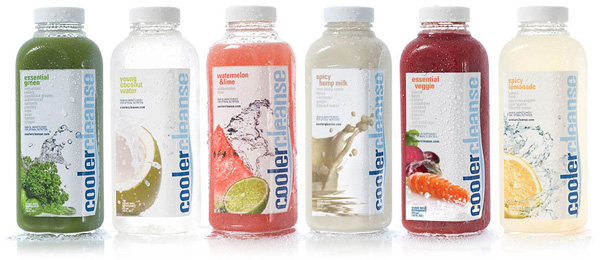 I'll be the first to admit I'm so not the juice cleanse type. I rolled my eyes when my best friend did the Master Cleanse for almost 10 days only to blow it all on a plate of nachos. I thought juices didn't provide enough protein and that whatever weight you dropped by going all liquid would probably come back as soon you started eating normally again.
But last week, I attended a Cooler Cleanse event and learned that they're launching a one day program for juicing virgins just like me called Juice for a Day. Cooler Cleanse is co-owned by Salma Hayek, who swears by juicing to detox after overindulging. With the prospect of being in a bikini right around the corner, I figured I could manage to make it through a mere day of cleansing.
So with the help of their rep, I chose my six freshly pressed juices (you can choose from more than 12, but she recommended this particular combination) and got my cleanse on.
9 a.m.: I won't lie. The first sip of my first juice, Essential Greens, was not delicious. Maybe it's because I don't like cucumber, but the taste of this bad boy definitely took some getting used to. Considering it also had spinach, kale, parsley and dandelion greens in it, I felt like I drank a salad for breakfast.
12 noon: I'm getting kind of hungry so I get a green, unsweetened iced tea with a friend. I feel like this is allowed because it has zero calories, right?
12:30: It's onto the second juice of the day, called Sweet Greens. This one is much more palatable. Although it has kale, spinach and parsley, it also has apples and goes down easily. I'm getting the hang of this!
1:30 p.m.: The hunger is back, so I drink a few glasses of water. A friend invites me to go sun with her, but I decline, thinking I might faint from the 95 degree F temps outside and not eating. The name of the game is conserving energy since I'm consuming way fewer calories than usual.
2:30 p.m.: My third juice of the day is Grapefruit Mint, and it's actually delicious and refreshing. I wouldn't mind drinking this one every day.
3:30 p.m.: I attend a press preview event with a fellow journalist where waiters are offering mini brownies and baklava. I proudly refuse as she samples the sweets and ask the bartender to put my green juice on ice while we're there (they're unpasteurized so you have to keep them refrigerated).
4:30 p.m.: I'm feeling a little lightheaded but unfortunately, it's time for the second Essential Greens. Again, I have to force this one down. Maybe that's why it's called Essential instead of Sweet?
6:30 p.m.: I drink the second Sweet Greens down with no problem as I rush to get ready to go out and meet friends. I take my final juice with me.
8 p.m.: My last juice of the day, called Spicy Hemp Milk, looks more like a creamy milkshake. It tastes sort of like one too, and has cinnamon and ginger in it. It's fairly tasty but I don't even finish it. Maybe it's the heat, but I'm not that hungry.
9 p.m.: One girlfriend I haven't seen in a while tells me I look skinny. I feel like the juice cleanse must be working! As they sit at a West Village bar and eat sweet potato fries and tuna tartare, I decide I'm really, surprisingly not hungry at all. I skip the food but order a vodka soda to celebrate my completion of the cleanse. Hey, at least it was liquid!
The final verdict?
The next day I weigh myself and see I'm only one pound less than my normal weight. I somehow expected more drastic results after a whole day without eating, but then again, it was only one day. The Juice for a Day cleanse promises to make you a "brighter, lighter, more energized version of yourself" so I suppose it worked. After doing it, I definitely did feel more conscious of whether I was actually hungry or just eating out of boredom. It's a good way to reset your system and get in touch with your satiety levels. I'd recommend trying this if you have a big event coming up or majorly overindulged on a weekend. If I can do it, you can too! Promise.
Cost: $60 for one day of six juices. They deliver anywhere! www.coolercleanse.com
More health and wellness
Are your genes making you fat?
Four healthy snack options
Detoxing 101
More From SheKnows Explorer