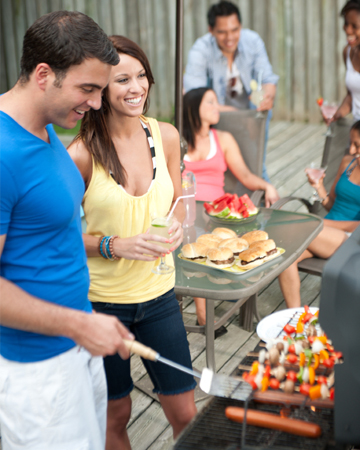 Tips & recipes from QVC's David Venable
Planning a summer party shouldn't be work. You don't need to send invitations or iron the table linens.
The best parties happen outdoors by the grill, pool or campfire with margaritas and s'mores. They're casual and they're easy. And, they're guaranteed to make your guests feel at home.
To me, summer feels like a four-month holiday. Even though our schedules may allow us to only be officially "away" for a week or two, summer's pace seems slower; people's attitudes are warmer. I love the summertime, so as often as I can, I try to make the most of it by entertaining. But instead of throwing a planned down-to-the-very-last-detail type of party, I keep things simple. So if you're a planner, or think being a host or hostess requires you to go above and beyond, think again. Here's how you can keep things easy:
Instead of formal invitations, send Evites or create an event on Facebook. Include the essentials like the time and address of the party, and then ask guests to RSVP online by a certain date.
After you have a head-count, figure out seating arrangements. Borrow or ask guests to bring extra chairs. Or, consider renting picnic tables. Then just make sure you have some sort of shade over the tables, whether it's a canopy, umbrella or even a tree.
Check online or at your local party store for a few favors to liven up your party. For pennies, you can find things like yard ornaments, signs and table settings. Paper fans can add color to your table, as well, and guests will be grateful to have them if it's a hot day.
A week or so before, stock up on wine and spirits and/or beer. If you're hosting an event around a holiday, this is especially important.
You should also finalize your menu about a week before, and plan to cook as much as you can on the grill to eliminate the back-and-forth from inside to out (which wastes energy). Hamburgers and hot dogs are classic stand-bys, but don't be afraid to be adventurous with the foods you grill. Fish and most seafood grill beautifully and shish kabobs are a great way to incorporate more of those summer veggies.
A day or two before your party, do the grocery shopping and make as many things as possible in advance. Cut up fruits and veggies and ready sides like pasta and potato salad. Most desserts can be made ahead and you can even start marinating or even slow-roasting meats.
Make sure you've got lots of activities to keep your guests entertained before and after the meal. If kids are invited, you might want to set up a kiddy pool. Later, when the sun sets, have citronella candles or tiki torches handy to keep mosquitoes and bugs at bay, as well as s'mores ingredients to enjoy around a fire.
Visit QVC.com and search for Venable's recipe page for the recipes below and more.
Grilled teriyaki marinated pork chops
Ingredients:
1-1/4 cups soy sauce
1-1/4 cups pineapple juice
3/4 cup light brown sugar
1/4 cup Worcestershire sauce
3 tablespoons white or rice vinegar
3 tablespoons vegetable oil
1/4 cup onion powder
Pinch crushed red pepper flakes
2 cloves garlic, minced
1 tablespoon fresh ginger, grated
4 (6 - 8 ounces) pork chops (bone-in or boneless)
Directions:
In a medium bowl, mix the soy sauce, pineapple juice, brown sugar, Worcestershire sauce, vinegar, oil, onion powder, garlic and ginger. Stir together until the sugar dissolves. Reserve 1/2 cup of the marinade for basting while grilling. Place the pork chops in a re-sealable plastic bag or casserole dish. Add the remaining marinade to the pork chops and allow to marinate for at least 30 minutes (be sure to turn the chops periodically to ensure that the marinade is being evenly distributed). You may also marinate the pork chops overnight for additional flavor.
Place the pork chops on a grill preheated to medium and cook for six to eight minutes on each side, basting/brushing regularly with reserved teriyaki marinade, until cooked through. Move the pork chops around the grill often to prevent over-caramelizing. Remove and serve with your favorite vegetable side.
Honey lime barbecue grilled sweet potatoes
Ingredients:
2-1/2 pounds sweet potatoes, peeled & sliced into 1/2-inch pieces
1 tablespoon olive oil
1/2 cup barbecue sauce
1/2 cup honey
1 teaspoon lime zest
1/2 tablespoon lime juice
1/2 teaspoon chili powder
1/4 teaspoon garlic powder
Directions:
Bring three quarts of water to a boil; add potatoes. Boil until the potatoes are just starting to soften, about 10 minutes. Remove from the heat and allow them to cool. In the meantime, combine the barbecue sauce, honey, lime zest, lime juice, chili powder and garlic powder in a small bowl.
Preheat the grill to medium-low. Brush the flat surface of each potato with oil. Place the potatoes, flat-side down, on the grill and cook for about 10 to 15 minutes, turning once. When the sweet potatoes are soft through the middle and brown on the surface, they're ready. Brush with sauce and serve.
As program host of QVC®'s popular cooking and dining show In the Kitchen with David®, David Venable offers a diverse and unique viewership experience with features such as product information, cooking demonstrations, on-air guests, celebrity appearances and live viewer interaction. Tune in to In the Kitchen with David on QVC Wednesdays at 9 p.m. (EST) and Sundays at 12 p.m. (EST) and visit www.QVC.com/ITKWD for Venable's recipes and blog posts. Plus, follow him on Twitter @DavidVenableQVC and Facebook.
More summer food
Unique recipes for your grill
Summer garden tips and recipes
Become a grill master: Here's how
More From SheKnows Explorer