Dear Julianne,
I am dying to wear a red lip. I've been seeing the trend all over the runways and the magazines, but I feel like it's a big commitment. I want to change up my boring makeup and thought that wearing a bright lip would liven things up, but when I tried wearing the color on a night out with the girls, it looked clowny. Also, it kept getting all over me! I spent the majority of my night in the bathroom fixing the monstrosity on my face. I'm about to throw in the towel. HELP!
-Lackluster Lips
Julianne answers: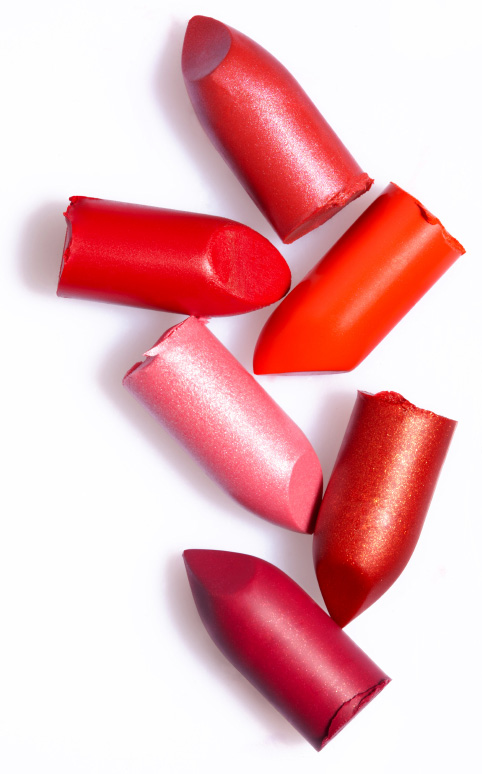 Dear Lackluster,
RELAX. It's just makeup! Makeup is supposed to make us feel girly and beautiful and confident. Don't throw in the towel just yet. You said that you think red lipstick is a big commitment? Well think of it as a relationship. You're not going to marry the first random guy you see one night. I mean, unless you have a wild night in Vegas… but that's another story. No, before you get married you have a few dates, get to know the guy. So, date your lipstick! Here are some lipstick dating techniques to get you on your way to the red commitment.
Dating: Lip tint
Lip tints are a great way to add color to your pout without the full pigmented punch of a lipstick. They come in a variety of shades, even red, and are able to be layered for more color. Try Tarte's LipSurgence; it's a natural lip stain that has a moisture meter that is off the charts! These babies glide on effortlessly leaving you with a natural flushed lip. Another great perk is that these tints are foolproof. There is no need for precise application. Just rub a LipSurgence tint on and go. Easy. All the colors are to die for, but if you really want to make a statement, try Amused (bright pink) or Spirited (bright poppy red).
The Proposal: Fuchsia and coral lipsticks
Now it's getting a little more serious between you and your lips. Time to try some lipstick. A great way to tip-toe into red is to go for another bright color that is "less loud." Yes, red is everywhere this season, but it's not "all that." I love a great fuchsia lip. I live for that color! Anyone can pull this shade off -- any skin tone, any lip shape. I'm a pale redhead and I rock this lip all the time! It's fun and flirty and as close to red as you're going to get! Try Maybelline's Fifth Avenue Fuchsia (seen here). It's the perfect color and not to mention a bargain! Thinking fuchsia is a little too, uh, bold? It's OK, just try painting on a different bright color. Another shade I love for this season is coral. It is perfect for the summertime -- not as daring as fuchsia, but just as bright. Try Lancome's Rouge in Love lipcolor in Miss Coquelicot. If you can get through this stage of lip lovin', then it's time to head to the chapel!
Marriage: Red lip
Congratulations on your upcoming nuptials! It's time to commit to the red lip. Just breathe! Everything is going to be OK. I am going to give you a few tips to achieve the ultimate red lip. First, pick your shade. The warmer your skin tone, the warmer the red. Try Dior Addict Lipstick in New Look (seen here). The paler or pinker your skin tone, the cooler the red. Try Hourglass' Femme Rouge Velvet Creme Lipstick in Refill Cartridge. Next, LINE YOUR LIPS. I know what you're thinking: "What is this? The '90s?" But, seriously, red is one of those temperamental colors that likes to go where it wants. So, by lining the lips, you are keeping the color from bleeding and smearing all over your face. Last, drumroll please, apply your red all over. Red perfection!
Be confident! If you're not sure about wearing this bold lip, it will show. So hold your head up high and own it!
Skillful, passionate and dedicated to her craft, Julianne Kaye is one of the hottest celebrity makeup artists in the industry. With more than 16 years of experience, Julianne has established herself as the go-to expert for all things beauty. Julianne's work can be seen in action not only on the red carpet, but also in print features, television commercials, music videos, films and more. Julianne works with the likes of Britney Spears, Kate Hudson, Eva Mendes, Sophia Bush, Sharon and Kelly Osbourne and Scarlett Johansson, to name a few. She is also the author of the book Pop Tart. Visit Julianne at www.revolutionbeauty.com.
More beauty
How to avoid summer beauty disasters
How to use gel nail polish
Real women share: How I pamper myself
More From SheKnows Explorer