Detox From The Inside Out
It's sad that our daily lives overflow with stress, little sleep, lack of attention to healthful eating, pollution and not getting enough good breathing in. Because of this, toxins build up in our bodies and on our skin. As a response, regular internal and topical detoxification programs do a lot to make our bodies function, feel and look amazing.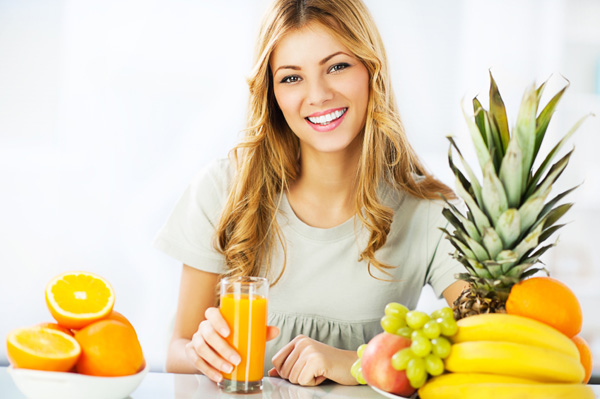 Detoxification – coulda, shoulda, why?
What is detoxification?
Detoxification quite literally "washes away" the toxins and impurities from all the parts of our bodies, especially the blood, liver, intestines, lungs, lymph system and the skin. When this system is compromised, impurities aren't properly filtered and every cell in the body is adversely affected.
In short, when you detox, you neutralize or transform toxins and clear excess mucus and congestion, increasing fabulous circulation. Poor digestion, colon sluggishness and dysfunction, reduced liver function and poor elimination through the kidneys, respiratory tract and skin all add to increased toxicity.
Detoxing improves the system by:
Resting the organs
Stimulating the liver which drives toxins out
Promoting elimination through intestines, kidneys and skin
Improving blood circulation
Refueling with healthy nutrients
Improving energy
Promoting clearer skin
Promoting vastly improved digestion
Increasing concentration and clarity
Ways to detox
There are so many ways to detox the system – through fasting, semi-fasting, simply removing toxic elements from the system, topical detoxing through masking, exfoliation, steaming, removing all chemicals and synthetics, etc.
How to get ready
Now, some folks find seasonal cleansing both symbolically important (spring/fall), preparing the body for the coming winter/summer ahead. Truly though, cleansing can be done any time, when you're READY, and there is no "best time" for it. The most important thing is being ready physically and educated. Prepare your body leading up to your cleanse by eating right and come down after your cleanse correctly.
For example, don't eat hamburgers and fries the day after or, I assure you, you won't be happy; you'll be darn sick. Having a plan and a support system, meaning someone supporting you, will make your cleanse/detox all the better – even better if that person is doing it with you or has done it already and can coach you. As with anything in life, set yourself up for success.
Juicing
I did a juice cleanse along with my boyfriend and assistant (see her video diary and his written one online at sukiscoop.com) because I'd gained about eight pounds over the last year (happy living?) and I wanted to get in better shape. I also wanted to try again, as I tried this once before and failed miserably. Maybe with company, I thought, I could follow through.
I wouldn't say I'm exactly unhealthy. I eat organic, and the "junkiest" foods I munch on are some organic chips or a couple of squares of organic chocolate. My problem is, I don't eat enough veggies, like most of us don't, and I forget to eat because I'm stressed pretty much all the time. I don't get enough sleep – ever – and I generally don't have what you'd call, uh, balance in my life.
Now, as I said, I've tried this juicing thing once before, and it totally turned me off. I lasted all of three-quarters of one day; however, I have friends who swear by home juicing and love it, so don't let me stop you! But this time around I went with an online juice company that sends you filtered juices that actually taste really great. We all lasted, and it went really well, so that's my preference. And for a wimp like me to follow through with juicing, anything is better than nothing!
Jumpstart to a healthy lifestyle
And that's an important point about detox. It's not just a one shot deal and it's not a one-of-a-kind thing. It's very individual and it's a lifestyle change that you are jumpstarting with a very scaled back, simplified plan, eliminating chemical and toxic input so your body can be "at rest" to "restart" itself. The point though is not to go right back to an unhealthy lifestyle once you "get through it." The point is to learn a new way of living and move forward in a new direction, to incorporate new ideas into your life and continue feeling and looking good permanently!
For a successful detox, here are some tips:
Eat plenty of fiber – quinoa, organic fresh fruits and vegetables, especially beets, radishes, artichokes, cabbage, broccoli, spirulina and seaweed are great detox foods.
Avoid chemicals – refined food, sugar, caffeine, alcohol, tobacco – minimize the toxic load.
Take herbs like dandelion root, burdock and milk thistle, and drink lots of green tea.
Take vitamin C – helps the body produce glutathione, a liver compound that drives away toxins.
Drink at least two quarts of water daily.
Breathe deeply – circulate oxygen completely.
Transform stress by expressing positives – about yourself too!
Take a very hot shower for five minutes, allowing the water to run on your back. Follow with cold water for 30 seconds. Do this three times, and then get into bed for 30 minutes.
Sweat in a sauna or steam – eliminates wastes.
Dry-brush your skin or try detox foot baths to remove toxins.
The most important detox exercise is… exercise! One hour every day.
Topical detoxing
Topical detox is the most direct method for achieving healthy, glowing skin. Think about it, the skin is a natural elimination organ, releasing toxins and impurities through the pores. Transitioning from synthetics to naturals is in itself a process of detoxification.
Many people who have been relying on skin care products with synthetics in them – often for many years or even decades – go through a normal cleansing period when switching over to 100 percent pure. The body is a remarkable machine and your skin always adjusts to the ingredients you put on it.
The problem is synthetic product chemists use ingredients that cover over symptoms, masking our normal physical reactions to ingredients and/or allergies we have. Which is why, when you start using pure products, you may find that you uncover toxic buildup, and you know what? That is a GOOD thing.
Think of it like this – if you'd been living on greasy snacks year after year, you might feel tired or agitated when you cut out the bad stuff and switch over to a whole food diet, but you'd be on the right course and it wouldn't be long before you felt better than ever – it's the same with your skin.
No matter your skin type, if you've been using synthetics, be prepared for a possible detox period at the start. Then, get ready to look and feel more glowing and radiant than ever before!
Even if you don't have the "stuff" to make it through a hardcore detox, I've experienced and seen a topical treatment program alone transform skin issues in amazing ways.
Some signs that skin is overburdened include:
sallow tone
age spots
acne
redness and inflammation
wrinkles and sagging skin
dark, puffy circles around the eyes
chronic dry skin
scaling, itching and chronic chafing
chronic bad breath or body odor
So listen, a full body cleanse addresses the root of congested skin. But that, combined with a topical detox will help you attain clear, healthy skin and a healthy body and will yield a deep, long-lasting effect all around. The fastest and most efficient way to get clear skin, mind and body is through the double whammy of internal detox matched with a topical detox plan. Enjoy the new you!
Expert Suki Kramer founded suki® clinically-proven natural solutions® skincare with a commitment to education, empowerment and 100 percent natural beauty products that work like they should. She has found loyal followers in some of Hollywood's hottest green enthusiasts like Alicia Silverstone, Courteney Cox and Julianne Moore and top celebrity makeup artists Jenna Hipp (renowned green nail stylist) and Pati Dubroff.
More on detoxing
When a detox diet is really necessary
Demystifying the detox diet
How to select a safe detox
More From SheKnows Explorer