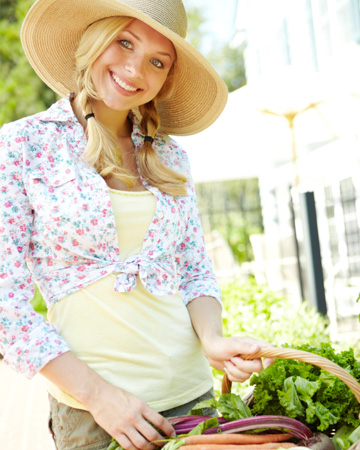 Grow a garden... anywhere
Where does your garden grow? With the right attitude… anywhere. David Venable, host of QVC's popular cooking and dining program In the Kitchen with David®, offers gardening basics for those missing a green thumb. No sprawling backyard is required.
If you have a patio, balcony or a few feet of grass in your yard, you can have a "garden." Not only will growing your own fruit, veggies and herbs save you from daily (and often costly) trips to the grocery store, but it's extremely gratifying.
I remember working in my grandma's garden as a child… we'd pick tomatoes, beans, squash, watermelon and a host of other treasures and eat them all summer long. Then, on the weekends, my mother and grandmother would can the fresh fruits and vegetables so we could enjoy them year-round.
It wasn't until many years later when I realized how much money we must have saved by growing and preserving our own produce. My mother raised three children on her own. And, while she worked full-time to support us, I know having a pantry stocked full of that produce must have been a real cost-saver.
While I don't have the yard space for the kind of garden my grandmother had, I do have a few precious feet of space which are home to a few plants. And, I'm awfully proud of them. If you have the space to spare, you can grow your own garden too. Here's how:
First, find a local nursery or garden center with helpful gardeners. These folks can offer a world of wisdom and can be the "green thumb" you initially lack but are sure to acquire after some practice and a little know-how.
Second, evaluate your space. If in-ground planting is out of the question, you're going to need planters, which actually give you freedom to grow plants native to warmer climates, like avocados, limes or lemons. (You'll just need a warm place to store the plants during winter.) But, be sure your planters drain well and are big enough for the crops you choose, especially if they mature into much larger plants. You can maximize space by combining plants in one large pot -- herbs are perfect candidates for this. But, check with your garden attendant to make sure the varieties you choose grow well with others and have the same water and sun requirements.
If you have space to plant things in the ground, you can grow more crops, but you'll want to ensure your soil can support them. You'll also want to till it (remove any grass, weeds and rocks) so your plants have room to grow and thrive. Fertilizer adds nutrients; peat moss can help with water retention and drainage. Both are available at your garden center and an employee can help you determine what you need through a soil test or other means. As your plants mature, you might want to invest in a nontoxic pesticide or even a fence to keep rabbits or deer out.
Regardless of how you're growing your garden, water is what gives it life (and also takes it away, if done too frequently). The best time to water your plants is very early in the morning or late in the day. Watering your plants in the heat of the day can scorch and kill them. All plants should come with a guide indicating how frequently they need to be watered. Pay attention to the guide and adjust accordingly based on how fast your soil drains.
Now that you've cared for and grown your own produce, what can you do with it? Here are two of my favorite recipes that use summer veggies.
David's Summer Garden Vegetable Soup
This is a versatile recipe that can be ready in 10 minutes, thanks to a pressure cooker. Don't be afraid to make this soup using your favorite vegetables, or those you have on hand in your garden. If you're a tomato lover, four cups of peeled and seeded fresh tomatoes can be used in place of canned crushed tomatoes.
You can also substitute frozen veggies if you do not have enough fresh. To make this even heartier, consider adding two cups of cooked macaroni, other small pasta, or a bit of cooked rice right before serving.
Ingredients:
1 tablespoon olive oil
1/2 cup carrots, chopped
1/2 cup celery, chopped
1/2 cup onion, chopped
3 - 4 cloves garlic, minced
6 cups vegetable broth
3 cups (total) of your favorite in-season vegetables such as green beans, zucchini, yellow squash, red bell peppers, beans, potatoes and/or corn, chopped
2 (15 ounce) cans of crushed tomatoes
2 tablespoons fresh herbs of your choice (such as basil, oregano, and/or parsley, chopped)
Salt and pepper, to taste
Freshly grated Parmesan cheese, to garnish
Directions:
In a 5-quart pressure cooker, add the oil and heat on high, or 'brown,' with the lid off. Sauté the onions, celery, carrots and garlic for about five minutes. Add the remaining ingredients, except for the fresh herbs, and stir.
Securely lock the pressure cooker's lid, set the cooker to high, and cook for five to seven minutes.
Perform a quick release to release the cooker's pressure.
Safely remove lid and check for doneness.
Serve topped with fresh herbs and freshly grated Parmesan cheese.
David's Grilled Eggplant & Tomato Bundles
Ingredients:
1 medium eggplant, sliced into 1/2-inch rounds
2 large tomatoes, sliced
1 large ball smoked mozzarella cheese
4 tablespoons olive oil
2 cloves garlic, very finely minced
2 tablespoons balsamic vinegar
1 pinch thyme, basil, dill and oregano
Salt and pepper, to taste
Grated Parmesan cheese (optional)
Directions:
Preheat grill over medium heat. In a medium-size bowl, combine the olive oil, balsamic vinegar, garlic and herbs. Brush both sides of the eggplant with the olive oil and vinegar mixture.
Season with salt and pepper. Arrange half of the eggplant slices on a tray.
Top each eggplant with a slice of smoked mozzarella, tomato and another slice of mozzarella. Then, top with the remaining eggplant slices. Sprinkle salt and pepper on each bundle. Arrange bundles on the grill grate.
Cook approximately four to five minutes; carefully flip, and then cook an additional four to five minutes. To serve, garnish with a generous sprinkle of fresh Parmesan cheese.
As program host of QVC®'s popular cooking and dining show In the Kitchen with David®, David Venable offers a diverse and unique viewership experience with features such as product information, cooking demonstrations, on-air guests, celebrity appearances and live viewer interaction. Tune in to In the Kitchen with David on QVC Wednesdays at 9:00 p.m. EST and Sundays at 12:00 p.m. EST and visit www.QVC.com/ITKWD for Venable's recipes and blog posts. Plus, follow him on Twitter @DavidVenableQVC and Facebook.
More summer food
Unique recipes for your grill
Tonight's Dinner: Shrimp and spinach pasta shells recipe
Become a grill master: Here's how
More From SheKnows Explorer