Fitness In Your 20s, 30s And 40s
Do you remember being in your teens and having your muscles work for you? How easy it was to get fit with little effort? Those were the good ole days. After age 20, your basal metabolism drops by one to two percent every decade, and as lean muscle decreases and body fat increases, you don't need as many calories to sustain yourself. Women of different ages have different needs when it comes to their workout routines. Here, I'll show you how to get a great workout whether you're in your 20s, 30s or 40s!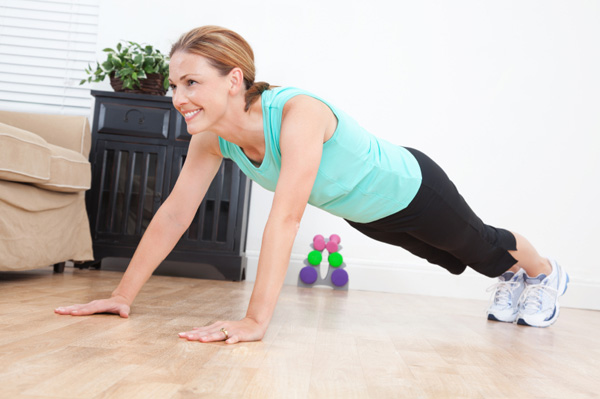 The 30-year-old workout
In their 30s, women begin to lose muscle. This condition is known as muscle atrophy. Muscle is active tissue and therefore burns calories. When we start to lose muscle, the metabolism begins to slow down, and as a result, it leads to more fat storage and weight gain. In your 30s, keeping fit means working harder. Interval and circuit training are key in this decade to maintain muscle while burning body fat. Life is busy in your 30s so getting a great workout in four to five days a week is key to offsetting the metabolic challenges of age.
Opt for one hour of circuit training (cardio and resistance) four times a week, in addition to cardio two to three days a week preferably doing intervals in your fat burning zone (60-85 percent) of your maximum heart rate. Do this for 45 to 60 minutes. It is critical in this decade to invest in a heart rate monitor. In your 30s, it is important to know the number of calories expended versus taken in to get the most out of your program.
In this decade, keeping fit also means working harder. Don't stick with heavy weights/low reps or low weight/many reps -- shock your system and change up your routine daily. I like functional fitness moves in this decade because with family responsibilities and work, time is limited so exercise needs to be effective.
Push-ups
Place your toes and hands on the floor, making sure your back and arms are straight. Keep your hands slightly more than shoulder-width apart and tighten your abdominal muscles. Inhale as you lower yourself to the floor, stopping as your elbows reach a 90-degree bend. Keep your body from touching the floor. Press back up and repeat. Do three sets of 12 to 15.
Side plank
The side plank engages the often-overlooked muscles that help support the core. This exercise will help increase lateral hip strength and stability and strengthen the internal and external oblique muscles as well as the transverse abdominal muscles.
To begin, start in a push-up position on your forearms remembering to keep your body stiff from head to toe. Roll onto your right forearm while rolling onto your right side, reaching up with your left hand. Be sure to press up through your forearm keeping your hip from touching the ground. Hold the position 15 to 60 seconds and repeat two to three times.
Twisting squat
This exercise will help sculpt your entire body. This move works your arms, core, legs and butt. To begin, stand with feet shoulder-width apart, holding a five- to 10-pound dumbbell in each hand, elbows bent 90 degrees, with palms facing forward. Keeping your chest up, squat down. As you lift back up through glutes, twist body to the left, allowing feet to pivot so that right heel lifts off the floor. At the same time, press dumbbells overhead. Return to start. Switch sides and repeat. Begin with 12 to 15 reps on each side. Begin with one set and work your way up to three sets.
Up next: The 40-year-old workout >>
More From SheKnows Explorer