Focus On Free Radicals
Practically every time I forget to hit pause on my DVR, a commercial comes on telling me to watch out for free radicals. They sound scary, those free radicals we've been hearing about for years now – but I often wonder how many people out there really know what they are or what they do to our bodies or our skin?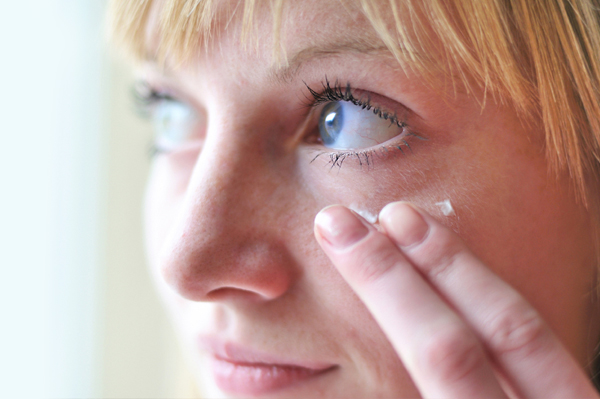 Well, it's like a lot of things in life. With great power comes great responsibility, and oxygen, which is so essential to us, also has great ability to do us harm. When oxidation occurs (e.g. free radical production), most notably from pollution, cigarette smoke, excessive overexposure to UV rays and other such toxins, as well as the normal aging process, free radicals (unstable atoms or molecules characterized by at least one unpaired electron) go to work on the healthy cells of our skin and body, causing a chain reaction that damages our cells.
The damage free radicals can cause
This can potentially lead to chronic diseases such as Parkinson's, respiratory disorders such as asthma, chronic obstructive pulmonary disease and lung cancer, heart disease (due to cholesterol and plaque buildup), DNA mutations and other forms of cancer. They're also implicated as a leading cause of aging by breaking down our collagen and elastin, causing fine lines and wrinkles – you know, that stuff we say we'll be OK with when we're younger and looking all plump. But let's be honest. As we get older and look into the mirror, our reflections challenge our earlier bravado.
Healthy diets fight free radicals
Now these amazing machines - our human bodies - have innate protective mechanisms (naturally occurring antioxidants) right inside that fight against the free radical damage and, if we are supporting our bodies with healthy diets and good supplements, we are starting with our best natural defenses against the problems caused by free radicals.
Daily recommendations to help prevent free radical formation before it begins:
Use a wide ranging antioxidant formula that includes vitamins C and E, selenium, mixed carotenoids and coenzyme Q10.
Take a resveratrol – grapeseed extract supplement (long taken internally and finally recognized for its topical value by mainstream companies).
Avoiding excessive exposure to the harsher UV rays of the day, cigarette smoke and air pollution.
Eat and drink your antioxidants! Especially fresh vegetables, fruits, green tea, pomegranate juice, guarana, goji berries and acai extract.
Cook with your antioxidants, such as grapeseed, oregano and cinnamon.
ORAC value
To determine the number of antioxidants in a food, supplement or skin care product, most look to the Oxygen Radical Absorbance Capacity (ORAC) scale. According to this scale, the top five foods for antioxidant content are ground cloves, sumac, ground cinnamon, sorghum and dried oregano. This is in addition to the many foods that have become trendy for their antioxidant capacity, including acai berry, pomegranate and goji berry. But you can also look up an ingredient's ORAC value here!
Topical oxidation
As far as topical oxidation, it's the same story – we need to prevent the formation of free radicals, neutralize existing ones, increase the skin's defense mechanisms and reduce inflammation. We know we can slow down the free radical attack process with 'anti'-oxidants as well as anti-inflammatory agents (inflammation being another major source of free radical damage). We know when you combine varying antioxidants, they become far more effective than when one antioxidant is used on its own. We also know that in skin care, it's important that a product is 100 percent pure and that it uses the right kind of ingredients formulated in clinically-proven formulas that actually penetrate the skin!
Skin care products
There are now 100 percent pure, sensitive skin alternatives to synthetic cosmeceuticals with proven results that are better than the synthetics, without the toxic side effects we've seen in the past. Look for these ingredients in your skin care products to prevent premature aging and treat imbalances of all kinds:
Vitamin C – Water-soluble, protects the lipid structures of cells, preventing the oxidation of vitamin A, an effective tyrosinase inhibitor, prevents hyperpigmentation by slowing down the production of melanin. Vitamin C is utilized for other bodily functions before skin care and is not produced by the body, so the skin is vulnerable to deficiency (and is needed for topical treatments). Look for liposomal or polypeptide technology (ingredients encapsulated inside a water cell), Ascorbyl Palmitate, Ascorbic Glucoside, Magnesium Ascorbyl Phosphate, all safe, stable, effective forms of this vitamin for topical use.
Plant-based retinol (derived from moth bean and encompassed in a polypeptide liposome cell for stability, bioavailability and safety) – Fights the effects of premature aging, as well as acne in the same biological way as the synthetic version does. Retinol jump-starts collagen, purifies pores, exfoliates the top layer of dead skin and toxins and prevents wrinkles and fine line production.
Vitamin E – Two of the major functions of vitamin E in the skin are protection from ultraviolet (UV) light damage and maintaining a protective layer between the skin and the environment. DNA damage by direct absorbance of UV radiation and indirect DNA damage caused by reactive oxygen species (ROS) may lead to mutations, which can result in UV-induced skin cancer. Make sure you look for tocopherol – the natural kind and not acetate, the unnatural kind.
Beta carotene – A precursor to vitamin A, carrot oil is a great ingredient in anti-aging skin care. Selenium, superoxide dismutase and alpha lipoid acid are all proven soldiers as well in the prevention of early signs of aging, oxidation and free radical damage.
Resveratrol – Grapeseed extract which does everything from brightening the skin to smoothing lines and wrinkles to preventing premature aging and stimulating collagen production (and more). When you think of the benefits of this ingredient, all you have to remember is that it's similar to the benefits of a glass of wine a day – but for your skin.
Our outlook also influences how we age
We've also discovered that some people just age slower than others. What do you think is so unique about them? They tend to think more positively than others and have a better outlook on life in general. This, of course, means that our thoughts have a very definite impact on our health and beauty. I happen to think this is the case and a positive outlook is more effective than any single beauty ingredient I will ever have (and I formulate skin care products)!
So to me, "know your beauty" means knowing the ingredients we use and ingest, taking good care of ourselves, but even more importantly, being super conscious of our thoughts and the power they can have over us.
Expert Suki Kramer founded suki® clinically-proven natural solutions® skincare with a commitment to education, empowerment and 100 percent natural beauty products that work like they should. She has found loyal followers in some of Hollywood's hottest green enthusiasts like Alicia Silverstone, Courteney Cox and Julianne Moore and top celebrity makeup artists Jenna Hipp (renowned green nail stylist) and Pati Dubroff.
More beauty and health
Anti-inflammatory diet: Foods to reduce inflammation and restore health
The health benefits of drinking milk
7 Healthy midnight snacks
More From SheKnows Explorer