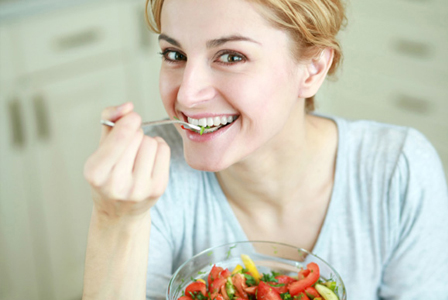 Spring has officially sprung and you know what that means… bathing suits are just around the corner! If you're like most gals, you're beginning to panic right about now!
Simple tips before summer hits
You need to have a deficit of 3,500 calories in order to lose one pound of body weight. So, before you start skipping meals or secretly begin a crash diet (which is super-unhealthy), we've rounded up three simple summer slim down ideas that will help get you "beach body" ready for the summer fun ahead!
Eat non-starchy vegetables with every meal
Non-starchy vegetables are really healthy for you. They provide your body with vitamins, minerals and lots of healthy fiber. Vegetables fill you up which means you'll eat less of the more fattening stuff on your plate. Here are a few suggestions:
Avoid starchy vegetables like white potatoes, beets, corn and peas, which can quietly pack on the pounds. The reason being is that they convert to sugar in your body.
Eat more dark leafy greens such as kale, Swiss chard, spinach, mustard greens, collard greens and mixed lettuce salads.
Eat a generous sized salad with both lunch and dinner every day.
For breakfast, try a vegetable omelet and skip the toast.
Take the stairs
Instead of taking an elevator, climb the stairs. Every bit of exercise counts towards your overall body movement. Burn some calories and tone your muscles, a win-win situation. You would be amazed at how many simple exercise opportunities are available to you on any given day! Here are some of our favorite strategies:
Park in the farthest parking spot in the parking lot and hoof it to the store.
While parked at a red light, squeeze your butt cheeks tight for a couple of seconds and then release. Continue squeezing and releasing until the light turns green. Do it at every red light you hit and tone your buns while driving. Woo hoo!
While watching TV, get up during the commercial breaks and march in place. Lift your knees up as high as you can. For an added challenge, lift your arms way up in the air and keep them there.
Dance your ASS off (literally and figuratively)
A 150-pound person can burn up to 405 calories per hour dancing. Now that's a fun way to burn calories! If you're a Dancing With The Stars fan, you know that just about every celebrity contestant loses weight during the competition. Some stars have had a downright body transformation (Kirstie Alley and Ricki Lake)! Not only will you burn extra calories, dancing uplifts your mood and makes you feel energized. Here's how to do it in three simple steps:
Create a smokin' playlist of approximately 30 minutes of music that gets you stoked.
Transfer the playlist onto your smartphone or iPod. Put your ear buds in your ears, and D-A-N-C-E sister!
Do this routine for 30 minutes at least three times per week.
Lisa Marie Rosati is an Amazon International Best Selling Author, International Health, Wellness & Lifestyle Goddess and Health Expert for www.sharecare.com. Lisa teaches women around the globe how to ROCK their Goddess, get their sexy back, attain optimal holistic health, ignite their mojo and create a kick-ass life through their Divine Feminine Gifts at her website, www.LisaMarieRosati.com.
More slim-down tips
8 Fitness must-haves for summer
Feel better about your body this summer
Staying active with water workouts
More From SheKnows Explorer