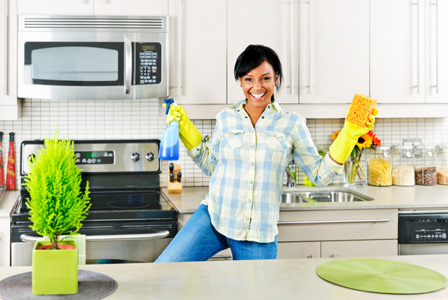 Spring has sprung and we're itching to get outside after a cold winter! Lucky for all of us, the warmer spring season offers us a whole lot more exercise options than its cold counterpart, winter, does.
Spring into fitness!
We're rounding up three fun ways to help you work up a sweat this season!
Spring cleaning
You don't even have to leave your house for this one! It's that time again -- spring cleaning! -- and all of us are making a little effort to spruce up our humble abodes after a cold winter. Lucky for you, cleaning can be a pretty intense physical activity. Picking up boxes, vacuuming, moving furniture and organizing can all burn off a lot of calories. So throw on your comfy sweats and crank up your favorite tunes, ladies, because it's time to get cleaning!
Get moving!
A lot of cities host marathons during the spring (or even the fall), but even if you're not ready to lace up your running shoes and get yourself a number in the running lineup you can still benefit from a marathoner's mindset.
Make this spring the time to get outside and push yourself physically. Whether you take up running, hiking or even rock climbing, you'll get fit, meet new people and get a healthy dose of sun!
Outdoor work
One of the reasons we love spring so much is because it's just so gorgeous outside! All the flowers are blooming, the trees are showing off the leaves they've missed all winter and the grass is greener than ever.
So how does this relate to your fitness routine? That's simple! On those days when you don't feel up for the actual gym, get out there and do some yard work for a few hours! Trust us, you'll burn plenty of calories and gain a green thumb in the process! Who knows, you might even meet a cute jogger running by.
More fitness tips
Top three reasons to exercise
Naked yoga: Would you give it a try?
3 Easy ways to fit in exercise
More From SheKnows Explorer