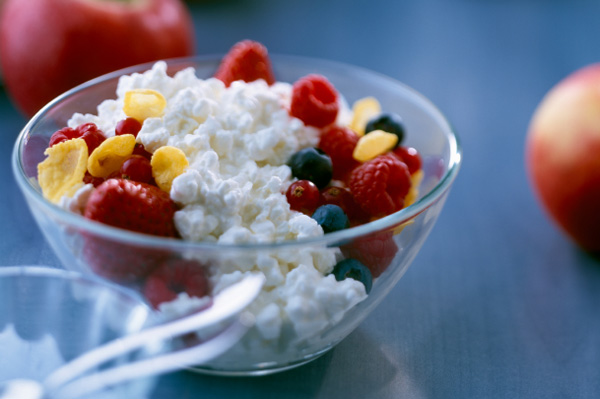 Apple and cheese
This tried and true option is one of Gans' favorites! She recommends noshing on a medium sized apple and Mini Baby Bel for a healthy pick me up. The fruit will give you a boost of fiber and vitamin C (to help strengthen your immune system), and the cheese will provide the protein and calcium you need to make it through the day.
English Muffin with Peanut Butter
For a healthy and beauty boosting snack, Gans recommends eating one Thomas' Lite MultiGrain English Muffin with one tablespoon of natural peanut butter. "The fiber in the muffin can help keep you regular and vitamin E in the peanut butter can help keep your skin glowing," she says.
Low-fat cottage cheese and berries
Eat a 1/2 cup serving of low-fat (not nonfat) cottage cheese with one cup of berries for a calcium (from the cheese) and protein-packed (from the berries) treat.
Banana and walnuts
Chow down on a small potassium-rich banana and 1/2 an ounce of omega-3 fatty acid-rich walnuts and you'll get a treat that's great for controlling your blood pressure and preventing heart disease.
More health
3 Ways to make exercise more fun this year
4 New Year's health resolutions
Recession-proof your health
More From SheKnows Explorer