Get Fit On The Fly
Sure, it's easy to make excuses for why we don't have time to exercise, but even the busiest of people can spare 10 or 15 minutes a day to dedicate to fitness. To help you get started, we're sharing three fun ways to help you fit in fitness on the fly.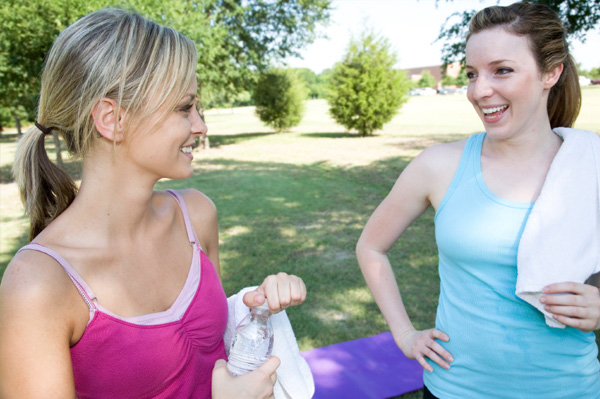 Take the stairs
You probably hear it all the time, but taking the stairs can really make a difference over time. Just think about it: How many times do you get to your office or the train station and choose the escalator or elevator over the stairs? Probably a lot! If you just took the stairs for one whole month, you'd easily increase your physical activity and start burning more calories on a daily basis.
Trick yourself
Sometimes, you just have to trick your mind into making some time for exercising. Let's say you're going to the mall and you really are itching to get your shop on. You're looking for that front row spot, right? Instead of wasting your time looking for it and being lazy, park far away from the entrance. You'll save yourself the hassle and burn a few calories walking to the door. Bonus points if you're carrying bags!
Another way to trick yourself into exercising is by getting off at the train stop ahead of your usual one. You'll walk a few extra minutes and get your heart racing on your way to work (or wherever you're going) and you'll definitely see a difference over time.
Multitask
Think you have to choose between watching your fave TV show and getting a workout in? Think again! A great way to fit in fitness is to multitask and exercise while you're watching TV or reading. So hop on that stationary bike or elliptical machine, turn on your fave juicy TV show and burn the calories away, ladies!
More health
KRAFT MILKBITE Bars: Our new fave way to get calcium
7 Super foods to add to your diet now!
New app makes you pay for ditching the gym
More From SheKnows Explorer