Get Toned
Do you avoid hitting the weights for fear of bulking up? Never again! Check out JJ Virgin's expert tips for getting toned, fabulous arms!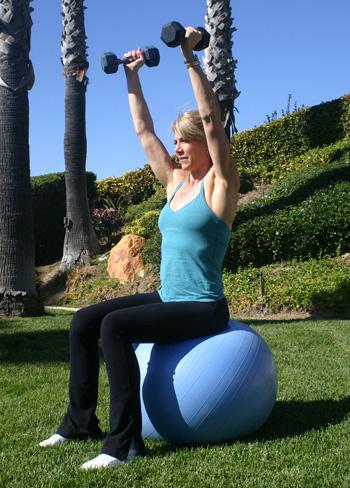 I've met women who cling to the treadmills and aerobic class social hours, who would much sooner have a root canal than step foot in the weight room.
But if you crave that lean, toned look that makes passersby look twice, you've got to hit the weights. And no more excuses. If your gym's weight room seems too intimidating or female body builder-ish, you can purchase a set of free weights at your local sporting goods store.
What you eat and how you recover are just as important as how you lift. With the right strategy, you'll create killer arms and a hot body that will let you flaunt your little black sleeveless Prada dress at the office holiday party.
Shape 'em
Despite those late-night ab-machine infomercial promises, you can't spot reduce. But think of weight resistance as your metabolic Spanx. A toned physique holds everything together and gives you a sexy, defined look.
To build defined muscles, aim for eight to 12 reps. Lift the heaviest weight you can handle in good form. A smart rule of thumb is that if you can't get to eight reps, lighten your load. On the other hand, if you can go past 12 reps, your weight is too light, so up your weight resistance. Whatever you do, never sacrifice form for heavier weight.
Focus on big, multi-joint exercises that use as many muscles as possible while you keep your core tight. You want to do multiple (two to four) sets with 60-second breaks in between so you exhaust your muscles.
My favorite exercises include:
Push-ups – for a great chest and triceps
Overhead presses – for fabulous shoulders
Pull-ups – for a beautiful back and biceps (Yes, you can do pull-ups! Get a friend or a weight-assisted machine for assistance. Neither is available? A second-best exercise for back and biceps would be a bent-over row.)
Step-ups – for great hips, glutes and thighs
Soccer sit-ups – for toned abs, athletes love (and hate!) these
Feed 'em
Feed your muscles within an hour of working out. Eat clean, lean protein combined with high-fiber carbs. Protein helps rebuild muscle, while the right carbs help refuel energy stores so you can work out even harder next time.
My favorite post-workout meal:
A pea-rice protein shake
1 cup berries
1 cup So Delicious unsweetened (green carton) coconut milk
1 tablespoon chia seeds
Rest 'em
Just like you schedule an hour for weight training, you should also factor in recovery time. Allowing your body adequate rest and recuperation helps your muscles repair so your next workout is even more effective.
Ditch the hardcore "I need to train every day" mentality. You want to give your muscles at least 48 hours to recover between workouts. Are you still sore to the touch or at your joints? Back off, rest more and decrease weight intensity during your next workout.
How you spend your nights proves just as important for lean, sexy muscles as your workouts. You need seven to nine hours of high-quality sleep every night. Adequate sleep raises HGH, which helps your body rebuild muscle.
Show 'em
You worked your butt off and finished three solid, challenging workouts this week. You ate clean. You even skipped that midweek girls' margarita night out so you could meet your sleep quota. You love what you see in the mirror.
Now it's time to flaunt that fabulous physique.
Don't be afraid to bare those arms. Toned arms and defined abs make even a five dollar Target tank look like couture.
Yep, you can even go sleeveless in the winter. Buy super-warm outerwear and coat-check it so you can flaunt those amazing biceps in your cute cami and pencil skirt. Trust me, you'll be more comfortable than those overheated women wearing their wool holiday sweaters.
One final bit of advice: Savor the magic of makeup on (yes!) your arms. Darker makeup bronzer or tan-colored makeup instantly helps your arms and legs look slimmer and more toned.
JJ Virgin is a celebrity nutrition and fitness expert and co-star of TLC's Freaky Eaters. Visit her website.
More workout ideas
5 Surprising ways to stay fit during the holidays
Calorie-burning sports drills for non-athletes
Core training with the medicine ball
More From SheKnows Explorer