How To Keep [Br]The Weight Off
Do eat fat. Don't eat carbs. Do exercise to burn calories. Don't exercise because it makes you hungry. The topic of dieting is so rife with contradictions and controversy, it can make a health-conscious person crazy...and reluctant to even try to eat healthier. Before you abandon ship on dieting, we've got a few tried-and-true common sense tips that will help you make sense of the dieting dos and don'ts.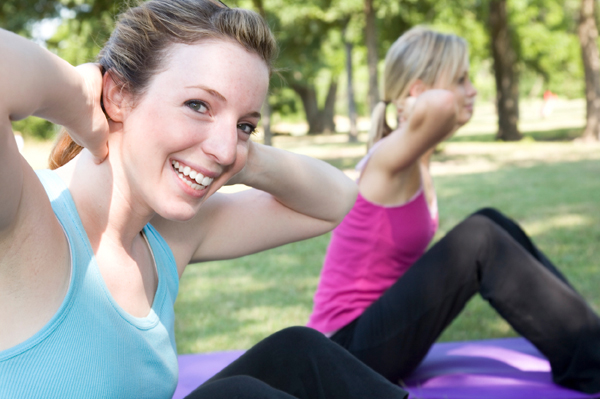 Do eat to lose weight
The majority of diets require you to drop calories or drop entire food groups as the answer to your weight loss woes. But rarely do restrictive diets lead to long-term success. Instead of depriving yourself with a diet you can't stick with, simply start serving yourself smaller portions of the foods you regularly eat.
Don't beat yourself up
Whether you've overeaten for the fourth time this week or missed your workout this morning, stop beating yourself up. Is berating yourself really going to make everything better? Of course not! In fact, the worse you rail on yourself, the worse you'll feel, and the more likely you'll engage in self-sabotage, like defiantly heading to the fridge for a second (or third) serving or simply giving up on exercise.
Do strive for moderation
When has anything you've done to the extreme delivered stellar results? I'm guessing the answer is a resounding "never?" Overdoing laziness and overeating are unhealthy just as over-exercising and starving yourself are dangerous. If you adopt a diet and fitness attitude of "everything in moderation," chances are you'll not only be more successful with healthy eating and regular exercise, you'll also truly enjoy your healthier lifestyle.
Don't eat emotionally
We all have bad days when we think a half-gallon of ice cream is going to make everything all better, but after we shovel down the dairy dessert, we're sick to our stomach and, ugh, realize we've also just consumed 2,000 plus calories. Instead of reaching for the spoon when you're blue or ticked off, consider foodless ways to improve your mood. Go to that kickboxing class you've been wanting to try, call up a friend for a bitch session, belt out a few tunes with your favorite playlist or hit the mall for some retail therapy, instead of turning to food for stress relief.
Do partner up for diet and fitness support
You'll be more likely to stick to your best eating and exercise intentions if you've got a partner in health. Having a diet and fitness buddy gives you -- and your pal -- support in making healthy choices, especially when times get tough.
Don't believe diet supplements are the solution
Even though a diet drink ad claims you can lose 40 pounds in 40 days doesn't mean you will nor does it mean you'll keep it off. Diet product advertisements speak to your emotional desire to be "thin and wonderful" but the truth is, the people writing the ads don't have a clue who you are or what is right for you. They just want the product to sell. Relying on diet pills, powders and potions for long-term weight loss is not only expensive, it can be detrimental to your health (supplements are not regulated by the FDA). Plus, you never learn how to tune in to your true hunger and fullness cues nor how to eat sensibly for life.
Do rely on whole foods
If you can make one change in your eating habits, commit to eating whole foods and steering clear of processed foods. Do you really need the diet frozen entrees to lose weight? No. Do you really even like the way those "diet-friendly" nutrition bars taste? Probably not. When planning your meals, turn to fresh fruits and vegetables, whole grains, raw nuts and seeds, beans, low-fat dairy and quality proteins, such as eggs and meat, poultry and seafood fresh from the meat counter. If the majority of your meals are made with whole foods, you'll find your meals are more satisfying and you feel -- and look -- your best.
More diet tips for women
How to maintain your weight loss
4 Slimming superfoods
6 Ways to fight cravings
More From SheKnows Explorer